The Crappie Fishing Handbook: Tackles, Lures, Bait, Cooking, Tips, Tactics, and Techniques
$

13.99
On sale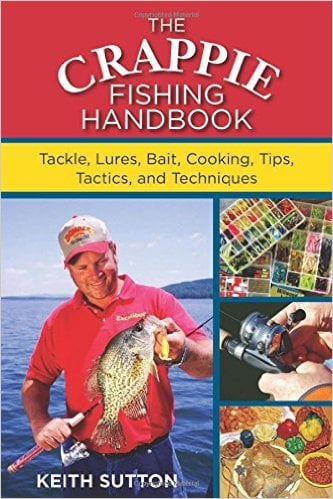 The Crappie Book is a comprehensive guide to crappie fishing with unique insights from an expert. With a logical format and useful and informative tips, this book provides the reader with all the tools for a successful crappie fishing experience.Master fisherman Keith Sutton provides the reader with an introduction to crappie, as well as tackle tips, how to select a lure, how to choose bait, an overview of tactics, how to catch a trophy crappie, how to clean and cook crappie, and much more!
Sutton details every end of the crappie spectrum for readers, including step-by-step instructions for guaranteed bountiful fishing. This revised second edition includes new color photographs and updated materials to increase your success. Sutton's instructions and descriptions are concise and easy to follow, making this the ultimate guide for any fisherman to keep on the bookshelf or in the boat.
Editorial Review
"No more comprehensive guide on crappie fishing has ever (been) published." (Terry Sheeley - The Reel News)
About the Author
Keith Sutton is an outdoor writer, photographer, editor, and lecturer. His stories and photographs have been featured in more than 350 outdoor magazines, scientific journals, newspapers, and websites. Keith has twice been named the "Conservation Communicator of the Year," and has served as the editor of Arkansas Wildlife, the Arkansas Game & Fish Commission's conservation magazine, for nineteen years. He and his wife Theresa, an accomplished writer, photographer, and editor of outdoor books, live in Alexander, Arkansas.
Customer Reviews
Format: Paperback Verified Purchase
I have read several other books on the subject and watch many DVDs. This book covered everything about Crappie Fishing that I was looking for. It is the ultimate learning guide. Can't say enough about how pleased I am. Just need to "add water". Thanks!!!!!!
Format: Paperback Verified Purchase
I've never been that big into Crappie fishing until last year. Always been a Bass, and Catfish type of guy. I started fishing my wife's family ponds that haven't been fished in years. All of which are over stockpiled with fish, and need clearing out. I didn't know one had Crappie in it and was using an ultra light to catch bass when all of a sudden I started nailing Crappie. From then on I was hooked on catching them. I needed some tips since I have never really gone after them, and this book provides some very good ones along with some recipes for those who aren't that sure about their cooking skills. All in all an ace shot.
Format: Paperback Verified Purchase
In the past three years, I've done an in-depth study of crappie fishing. This book covers everything I have discovered during my research plus it contains many tips I have never encountered. This is an outstanding book and belongs in any crappie fisherman's library.