PowerBait Crappie Nibbles, Dough by Berkley
$

4.99
On sale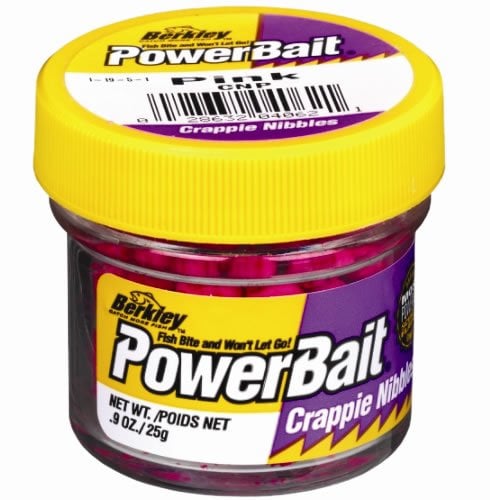 Berkley PowerBait makes novice anglers good and good anglers great! Berkley scientists have spent over 25 years perfecting an irresistible scent and flavor - the exclusive PowerBait formula. Fish love PowerBait so much they hold on 18 times longer, giving you the time and confidence to Feel More Bites - Set More Hooks and Catch More Fish!
Features
Made using the highest quality materials.
Engineered to help anglers catch more fish.
The most trusted name in all fishing gear.
PowerBait biodegradable crappie nibbles.
Makes any crappie presentation more effective.
Perfectly sized for crappie hooks and small lures.
Dissolves slowly in water, dispersing a scent cloud that attracts crappies and other panfish.
Available in chartreuse color; comes in a 0.9-ounce jar.
Customer Reviews
Color: Neon Chartreuse Verified Purchase
These work really well. Where I fish, there are few crappie and many bluegill, but they don't seem to mind that they are not the target audience. This is kind of a 'shooting fish in a barrel' bait. I get it for my daughter because it catches fish (small fish) and she doesn't have to spike a worm.

I fish for trout, too, and have always hated powerbait - never use it - but these work great for bream. If you have a kid or just want to catch a mess of fish, these will do it.
Color: Chartreuse Verified Purchase
Used at our local lake. Caught about 30 crappie over a 3 hour period in late evening. Lot of fun! Easy to use! Putting two at a time on a crappie hook with float yielded best results. Kids had a blast (so did the adults)
Color: Neon Chartreuse
This product works great. I put 3 on a large hook and was pulling in 9" or larger crappies while my buddy was getting zero with live minnows. I wish there was a larger bait size, but as long as i'm catching, I'm happy.